Bonz Bets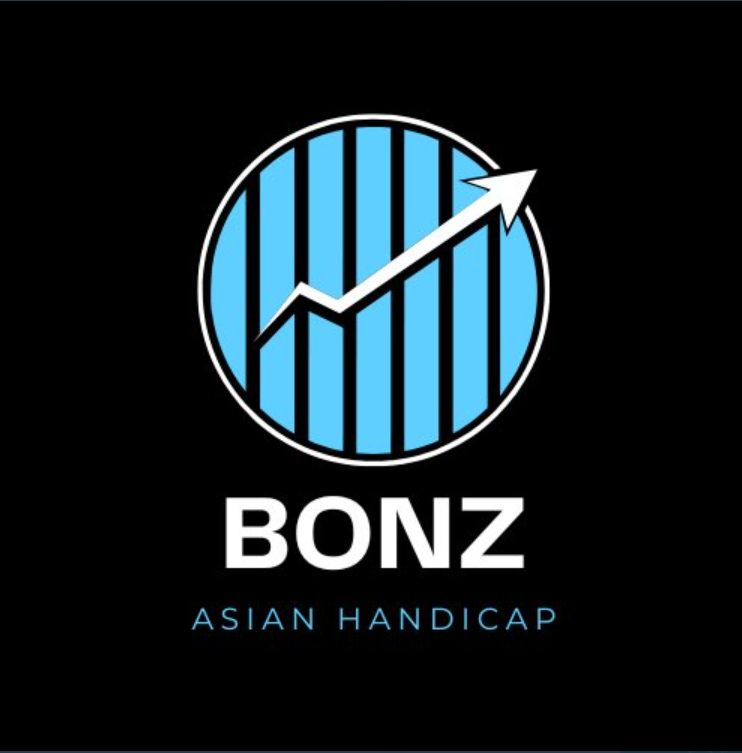 About Me
I have been betting on sports for many years, I began by following tipsters along with matched betting. I soon realised I wanted to find my own edge in betting/trading. I managed to do so and have been betting full time since 2019.
I started to share my Asian Handicap bets on twitter initially then created a telegram group which I have received some great feedback from members.
My method targets mainly lower league football, including youth and women's. I believe these games offer the most value in terms of prices and lines being incorrect, and my results back that up. In 2022 I have returned a profit of +300 points with a 12% ROI from over 1900 bets.
All bets are in play via Bet365. I want to make it clear that missing bets is not an issue. Even If you only manage to get on 50% of bets you will still return around a 10% ROI. And with the bot service your points balance will only be affected if you view/open a tip. Weekends are much busier than during the week.
I am available to contact on twitter @BonzTrades or telegram @Bonz5 I am always happy to answer and questions you may have.
BonzBetBot | Bot Link
Currently there are spaces available on the BonzBetBot. Join at the link above and select /buypoints to add credits to your account.
Current Results
Bonz results from 2022 are outlined in the summary table. Every month has been profitable with an ROI of 11.52% at an average of 25pts of profit per month.
The results sheet on the left will update with Bonz results from 2023 which will mirror the bot bets.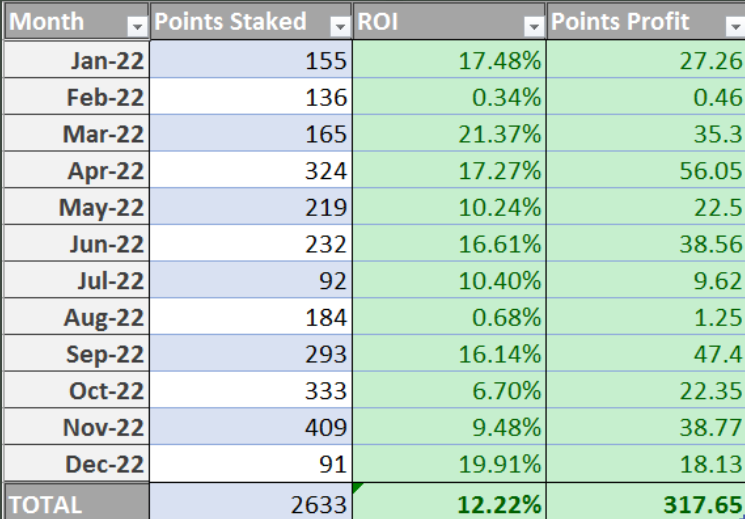 Service Fundamentals
Bookmakers used for recording prices – all bets to be recorded at bet365 prices.
When are bets sent – all bets are sent live depending on when the betting model provides alerts. Weekends at peak times are likely to be the busiest periods with there being the chance of 30 bets + on some weekends
Odds Recording – bet365 live price at time of bet being sent
Tipping Volume– would expect around 175 bets on an average month with the turnover expected to be around 300pts for that period.
Price – flat rate of £5 per point
Live Bets
All bets with the service will be in-play with bet365 (live).
How the live bets will work with Bonz?
1) With Bonz service the live bets will be on by default when you've joined the service by purchasing points.
2) You'll only receive the tip if you select the live play within a given timeframe. You'll receive a notification via telegram stating that a tip has been sent. The tip is then hidden in a box. If you click on the tip it opens the box and the details of the tip are revealed, and your account has received the tip
3) The expiry time of the bet will be determined by Bonz depending on the situation. Bonz will set the time available for each bet sent depending on the situation at the time or alternatively Bonz will manually expire the tip if there's been a goal scored, or the value has been taken out of the price for whatever reason. There may be shorter expiry times for weekend matches with many bets being sent as it will be harder to keep track of goals for example.
4) Once the "Live Tip Expired" message comes up, the bet will no longer be possible to view and your credits for that bet will not be affected.
Additional Information
– There may be a slight delay between goals being scored and the manual expiry coming through due to it taking 10-15 seconds to process on the bot alongside Bonz needing time to react to the goal. This may lead to subscribers receiving a tip but not being able to bet on the outcome. Message Bonz on twitter or telegram during those rare times and he'll be able to make points adjustments on occassions it's fair to do so.
-If interested in following the service but you don't have access to a bet365 account then feel free to get in touch. There is the potential to offer a short trial to see if the service can be viable to follow with the accounts you currently have.
Further Enquiries
You can get in touch with ME about all bot related enquiries to my telegram @Bonz5 or on twitter @BonzTrades.