Bonz Bets
About Bonz Bets
Bonz started betting through the familiar route of matched betting, whilst following tipsters. He quickly was realising the potential in having your own betting edge and so began doing so through both betting/trading. The process for him didn't take long and he's been betting full time since 2019.
His method targets mainly lower league football, including youth and women's. He believes these games offer the most value in terms of prices and lines being incorrect, and the results back that up. In 2022 he returned a profit of +300 points with a 12% ROI from over 1900 bets.
Bonz is our first exclusive in-play tipster on the platform and we've created the live bet system within the bot to make things run seamlessly to ensure the process is fair and you only pay for the profit you achieve. This is implemented using an 'opening box' system. Members have to manually open the tip on the bot to confirm they've received that bet, only then affecting account credits.
Bonz has acheived staggering profit levels already on the bot and is likely to soon overtake Wadster as the tipster with the most points of profit on the bot despite running his service for just a year in comparison to the four I've had! He's made 162pts of profit already at an ROI of 8.4%, averaging close to 20pts a month. The exciting thing is Bonz thinks there's been a slight underperformance so far on the bot and is targeting a 10% ROI in future. With a Bet365 account handy, following Bonz is a no brainer, with a very fair approach to settling bets for users.
Bonz is available to contact on twitter @BonzTrades or telegram @Bonz5 is always happy to answer and questions you may have.
Current Results
Fun Stats
8/9 profitable months on the bot in 2023
Three months with 35+ points profit
Close to 500pts profit in less than 2 years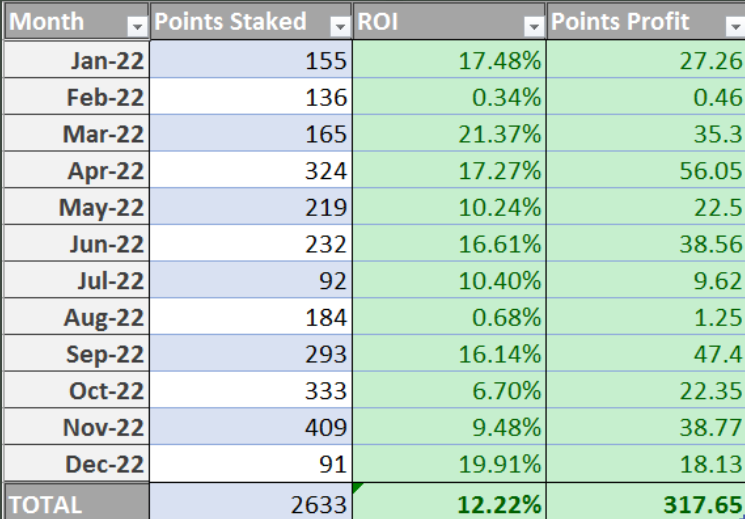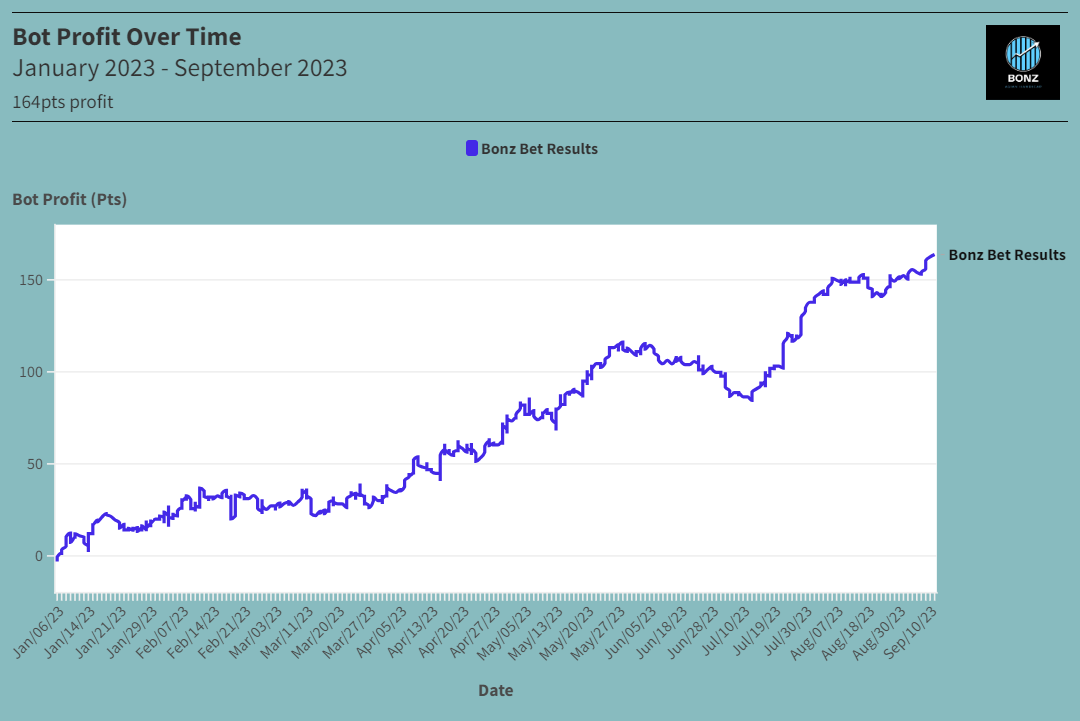 Unique reasons to join the Bonz Bet Bot?
Superb combination of high strike rate, ROI and turnover meaning the % of profitable months is remarkably high. 20/21 profitable months (95%) when including personal bets from 2022.
Very flexible and fair approach to bet settlement. You can message Bonz or Wadster after opening bets, where if there's been a quick goal or fast odds change we will be able to cancel the bet on your bot account.
Higher limits on in-play markets means you can get the stake you want on. This means that accounts will have more longevity too as Bonz has found from personal experience.
Rare high quality live betting tipster. Many members may not have bet with a live tipster before and will be able to see the potential in adapting to the football live.
No FOMO compared with other live tipsters as only tips you open count! This gives strong peace of mind during times you're busy when compared with monthly subscription tipsters where you're always feeling a need to be alert even when inconvenient.
Service Fundamentals
Bookmakers we recommend – Bet365 only
Odds Recording – Bet365 price at sending
When are bets sent – High frequency of bets at weekend (30 tips some weekends) so it's an advantage if you have more free time to bet then. Tips generally can be sent at anytime within sociable UK hours.
Bets received by everyone (default group) – All bets that are opened.
Groups (additional bets outside default) – No additional groups
Live Bets
All bets with the service will be in-play with Bet365 (live).
How the live bets will work with Bonz?
1) With Bonz service the live bets will be on by default when you've joined the service.
2) You'll only receive the tip if you open the live play within a given timeframe. You'll receive a alert notification via telegram that a bet is coming. The tip is then sent hidden in a box. If you click on the tip it opens the box and the details of the tip are revealed. Your account is then flagged as having received the tip and your credits will now be affected for this bet.
3) The expiry time of the bet will be determined by Bonz depending on the situation. Bonz will set the time available for each bet sent depending on the situation at the time or alternatively Bonz will manually expire the tip if there's been a goal scored, or the value has been taken out of the price for whatever reason. There may be shorter expiry times for weekend matches with many bets being sent as it will be harder to keep track of goals for example.
4) Once the "Live Tip Expired" message comes up, the bet will no longer be possible to view. Your credits for that bet will not be affected!
Additional Info – make sure to message @Wadster or @Bonz5 on telegram if you missed a bet due to a goal or odds change and your credits aren't reflecting the results you achieved. Me and Bonz are happy to cancel bets in this scenario.
Further Enquiries
You can get in touch with Bonz about all bot related enquiries on telegram @Bonz5 or on twitter @BonzTrades.