Portugal Bets
About Portugal Bets
Portugal Bets is run by Jorge, a Portuguese football tipster whose been involved in sports betting since 2015. He's been consistently adapting his metholodgies over time to go from a purely subjective analysis, to including far more data processing and statistical analytical tools. He primarily focused on mastering Portuguese league betting, covering 5 divisions in total – the mens top 4 divisions & the womens competition.
His method is not tranversal to all divisions, with differences presented in finding value between higher and lower divisions. Yet the general approach remains consistent in terms of maintaining specific knowledge of teams/players, mathematical knowledge and statistical modelling, and also in predicting probably 11s and possible embezzlements.
Jorge joined the pyckio platform as a tipster in December 2021 and has proceeded to become a pro-tipster on the platform in quick time with a yield of 9.2% through 773 selections. He's already started translating that form to his bot service that commenced in January 2023. Currently, 27pts profit have been made (exclusively from divisions 3 & lower to date) for a yield of 8% with a promising level of consistency shown already.
Further questions regarding the Portugal Bets service can be made on telegram @Egroj5 with further service details provided below.
Current Results
Previously Recorded Bets
Primeira Liga – 373 bets, 464.9pts staked, 26pts profit, ROI 5.75%.
Liga 2 – 315 bets, 406.1pts staked, 38.33pts profit, ROI 9.44%
Liga 3 – 500 bets, 265.3pts staked, 100.72pts profit, ROI 12.86%.
Liga 4 – 413 bets, 976.70pts staked, 69.13pts profit, ROI 13.9%.
Womens Division – 185 bets, 260.9pts staked, 63.13pts profit, ROI 24.31%
Combined – 1786 bets, 2374pts staked, 298.33pt profit, ROI 12.57% (Historical personal bets made at Asian and European books)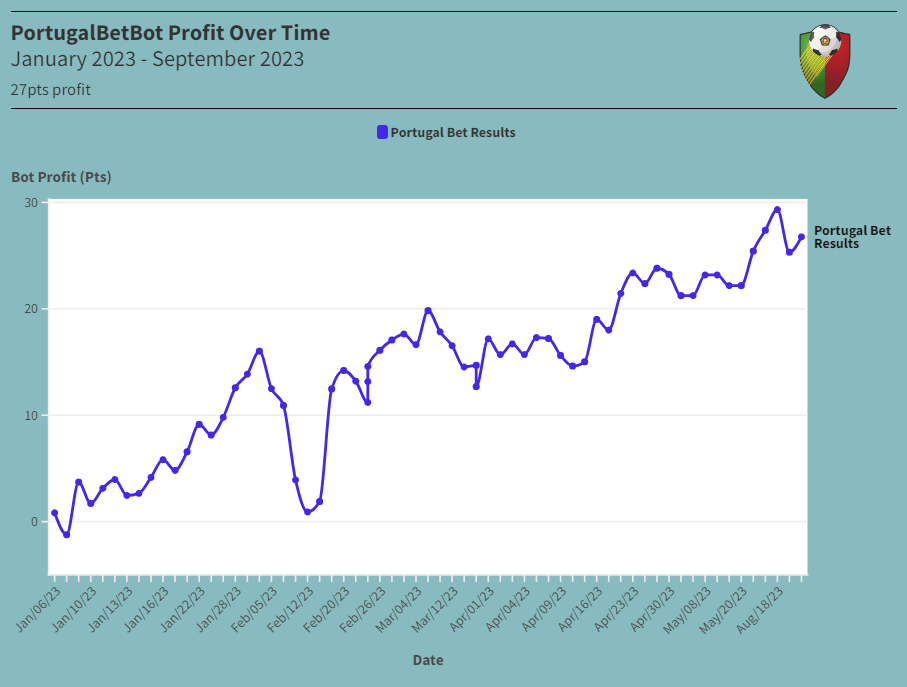 Unique reasons to join the Portugal Bet Bot?
Pinnacle friendly betting service across three separate divisions (Primeira Liga, Liga 2, Liga 3) meaning accounts are protected. (Exchange friendly on top two divisions at moderate stakes)
Fair odds recording. As prices might be a little more sensitive than English Premier League bets, we settle prices at 0.03 below the pinnacle price at time of bet send, making recorded results achievable and possible to better!
Very high ROI on lower leagues for those that have access to multiple books! In the Womens Division, the ROI is a superb 24%. Group functionality makes this all opt in and provides flexibility for those who require it.
Low maintenance service at around 25 bets per month, makes it easy to follow and is a nice addition to a general portfolio of tipsters
Specialised knowledge with years of experience. Long term data is excellent and the consistency of the results across divisions speaks volume to the credentials of Jorge.
Service Fundamentals
Bookmakers we recommend – Pinnacle, Betfair Exchange & Bet365
Odds Recording – 0.03 below Pinnacle price
When are bets sent – Usually on gameday in the hours building up to matches.
Bets received by everyone (default group) – Top Two Portuguese Leagues (Primeira Liga & Liga 2)
Groups (additional bets outside default) – PortugalDivision3 & PortugalDivision4WomensBPI
*further group info below
Groups
There are two additional groups to the default tips received by everyone.
PortugalDivision3 – bets from Portuguese Liga 3 (all based on pinnacle price but lower limits and not betfair exchange friendly)

PortugalDivision4WomensBPI

– bets from Portuguese Liga 4 & Womens BPI League (higher ROI but need access to more bookmakers)
All will receive tips from top two Portuguese leagues by default, but you can join the other remaining groups if your own situation allows for this.
Instructions for joining groups
1) To start type /help – this will bring up all the commands and you will see the group options at the bottom.
2) Next click the /listgroups option to see the group options available to you ('PortugalDivision3' & 'PortugalDivision4WomensBpi').
3) Then you need to select the /joingroup option and simply type in the name of the group you wish to be a part of ('PortugalDivision3' or 'PortugalDivision4WomensBpi'). If ever wanting to leave this group you do the reverse by selecting the /leavegroup option and typing out ('PortugalDivision3' or 'PortugalDivision4WomensBpi').
Further Enquiries
You can get in touch with Jorge about all bot related enquiries on telegram @Egroj5 or email at jvpn7bmf@gmail.com