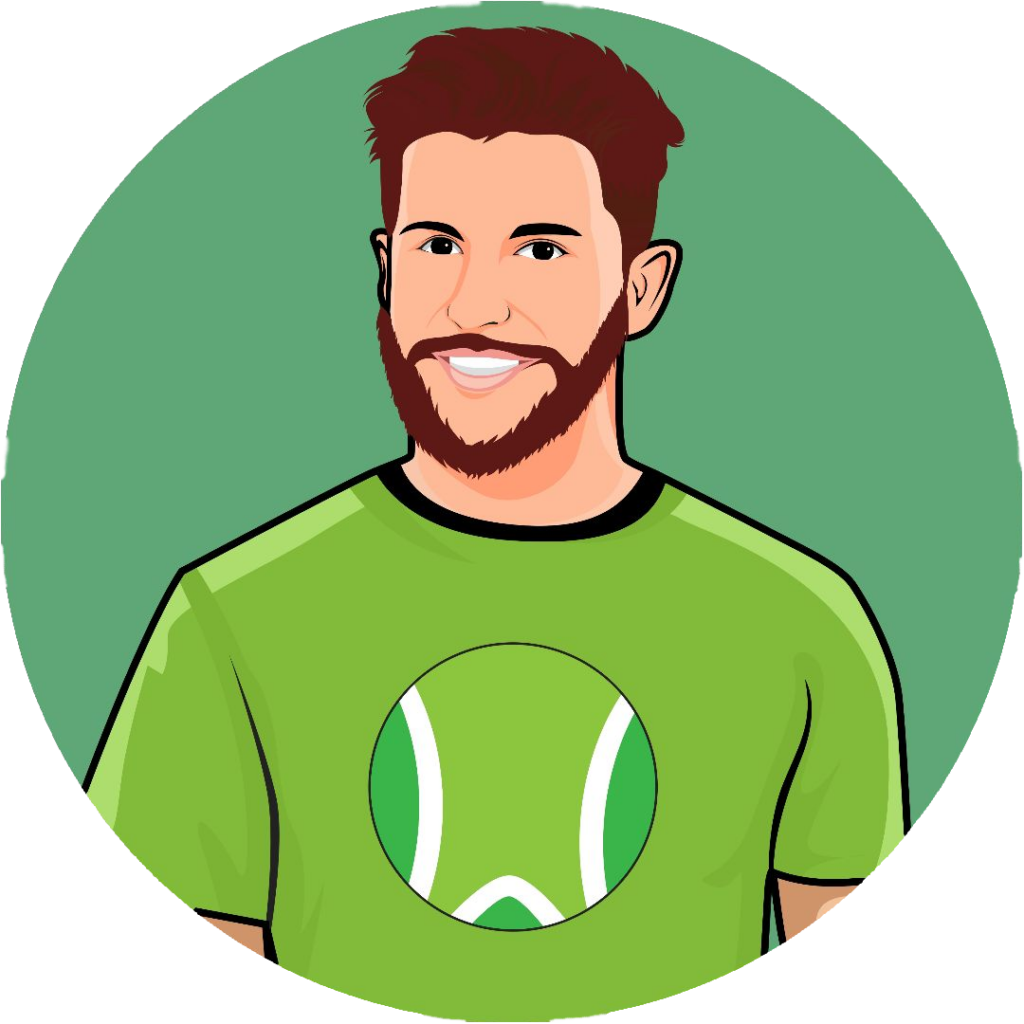 Wadster Winners
About Wadster (Me)
My betting journey started in 2016, when I studied the efficiency of tennis betting markets at university for my dissertation. After graduating in 2017, I started trading tennis on the Betfair Exchange where I began compiling my own bets based on various unique in-play trading metrics. Then after discovering 'tennis tipsters' on twitter, I figured I might be quite suited to this game!
It was an incredible first two weeks tipping publically and it progressed into an excellent first 12 months tipping in 2018 (over 200pts profit and ROI of above 20%).
Then, I decided to make the change to create a new type of payment model. I wanted to create something more in alignment with my personal values of fairness, honesty, integrity and accountability. This this led to the development of the bet bots in 2019 being used today.
My approach to tennis is largely intuitive, with a large emphasis on feedback mechanisms of learning and adapting my bets over time. I always look to target betting angles that suit my personal strengths. This has worked out nicely for me on the bot with over 160pts profit made over the period to date.
After a challenging period in 2023, I took a break from betting to re-evaluate my approach. I decided I need to focus on my strengths from 2018 more, and now will be tipping exclusively on ATP. This led to me restarting with tips at the US Open, with a highly successful 13pts of profit gained for an ROI of 80%. You can find out far more about my approach to tennis betting specifically on my 'Wadster Deep Dives' in my betting diary. I've also participated in numerous podcasts where I discuss my general betting approach!
Current Results
Yearly Stats (All Pre-Match Bot Bets)
2019 – 550pts staked, 17pts profit, ROI 3.1%
2020 – 305pts staked, 70pts profit, ROI 23%
2021 – 661pts staked – 65pts profit, ROI 10%
2022 – 969pts staked, 10pts profit, ROI 1%
2023 – 519pts staked, 2pts profit, ROI 0%
Lifetime Pre-Match Bot Stats – 3004pts staked, 164pts profit, 5.5% ROI
*Note – ATP only ROI higher at around 8% from which I'll be only tipping moving forward!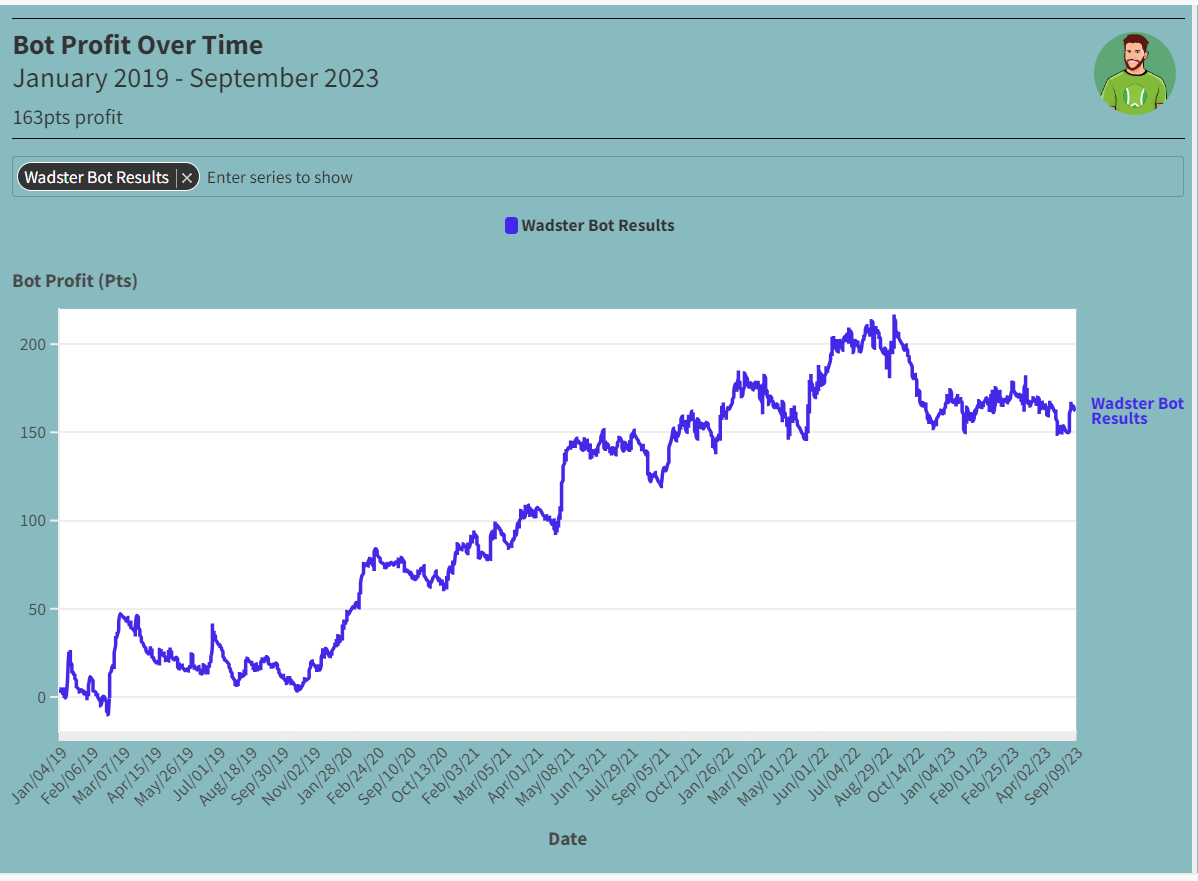 Unique reasons to join the Wadster Bot?
One of the biggest reasons to join my service is for the complete accountability I take for my betting. If I make mistakes or I feel that my betting form isn't great, I'll be honest and upfront. However, I always also talk through my roadpath towards solutions and improvement in future.
Across all pre-match bot bets, I've made profit in each season (albeit small in last two years). This indicates my mental resillience towards losing runs and that I'll never spiral during difficult periods. I've had a lot of experience in dealing with the mental side of betting, making these periods manageable moving forward.
Easy odds availability and a great betting exchange & pinnacle option for following. I'll generally only bet when the limits on the platforms are higher and the odds have been stable lately.
In-depth write ups previews, reviews and additional value content through my 'Wadster Betting Diary'. Following my service gives you a very personalised understanding of my own betting. This give an experience I believe many members appreciate. (*Write ups will be available at a small cost of 4 credits per month moving forward)
The creator of this concept which shows how my alignment in values is always having members in mind. This is true for all compontents of the service. I genuinely enjoy and take on board many suggestions from my members, and encourage anyone to raise any thoughts or new features they'd like to see with my service or the bot. I know my service wouldn't be what it is without the fantastic existing long term members I have today!
Service Fundamentals
Bookmakers we recommend – Pinnacle, Bet365, Betfair Exchange,Unibet, William Hill, Betvictor. For international members (outside UK), there will be other popular options where my bets can be easily followed.
Odds Recording – Pinnacle & Betfair Exchange achievable price & Bet365 for members with account there.
When are bets sent – Dependent on current tennis swing. I'll usually give more information for given weeks. Always try to give at least an hours notice
Bets receveived by everyone (default group) – Pinnacle & Exchange Friendly Bets
Groups (additional bets outside default) – Allmarkets, Bet365exclusive
*further group info below
Groups
There are two additional groups to the default tips received by everyone.
Allmarkets – generally will be set scores & outright bets that aren't available at many bookies. Important to have decent access to bookmakers to join group
Bet365exclusive – bets/prices available at Bet365 only. They often have the best prices on quarter bets, over set 1 games, set 1 winner and some outrights so these will all go into this group. They also have some unique markets such as 'player to win from behind' which I'll occasionally bet.
Instructions for joining groups
1) To start type /help – this will bring up all the commands and you will see the group options at the bottom.
2) Next click the /listgroups option to see the group options available to you (allmarkets & bet365exclusive).
3) Then you need to select the /joingroup option and simply type in the name of the group you wish to be a part of (I.e. 'allmarkets or bet365exclusive'). If ever wanting to leave this group you do the reverse by selecting the /leavegroup option and typing out ('allmarkets or bet365exclusive).