Outside Rides
About Outside Rides
Outside Rides was created in 2021, when it was found to have excellent historical results. A year of testing followed and with those live results replicating the previous ones, it was ready to be launched publically.
The service is a system based horse racing service with selections for UK flat racing and is largely based on spotting jockey bookings of signifcance.
The service is possible to follow either at bookmakers (morning tips) or the Betfair Exchange at Betfair Start Price (BSP). Further information is provided in the groups section on how to follow at the Betfair Exchange if desired.
Outside Rides has now started to find form on the bot following a challenging run. Close to 30pts of profit was made for the month of August 2023 and the service is now in profit for both groups since the bot commenced. This added to the 32pts of profit made for the year (75% ROI to BSP) on bets sent privately beforehand.
Tipsters Comments On Outside Rides System Theory
Most of the top performers have their contractual connections, being obliged to ride a certain trainer or owner's horses whenever asked, be they good, bad or targeted for something in the future. Meanwhile, they will also pick up other rides for other trainers and owners when available. How and when they do so varies from rider to rider but the top of the tree are the most in demand and often get the most choice. It often means that smaller yards are selective about when they ask for the best jockeys so that they build a relationship– putting them on underperformers would likely mean greater reluctance to ride for that yard again when there are other better options, but giving them winners or strong chances helps both causes and increase the chances of them working together in the future.These rides are called 'spares' or 'outside rides'.
So, an unusual partnership can often infer that expectations are high and with a leading rider on board that horse is going to have its best chance of being delivered successfully. However, it's not quite as simple as picking every ride for the top jockeys because there are other factors to consider. For example, the influence of a jockey varies in different conditions and races, while different individuals have different motivations with some, such as Frankie Dettori, seeking to be involved at the top level more than looking to pick up winners and others the reverse.
Current Results
Tipster Comments
As mentioned above, Outside Rides was conceived in 2021. Because of this, the 2020 and 2021 results on the spreadsheet are backtested. In 2022 we looked to see how well and how broadly the premise worked and the results were very positive- it worked for the majority of the jockeys used but not all. William Buick, Jim Crowley, Jack Mitchell, Andrea Atzeni and Danny Tudhope all made impressive profits but Tudhope's were mainly at high odds so he has not been included this year. (It also didn't work for Tom Marquand and Oisin Murphy was suspended.)
We have removed Tudhope and Marquand and added Ben Curtis, Marco Ghiani, Paul Mulrennan and Jason Hart. We feel this will give us a very strong 'squad' for 2023. The results on this spreadsheet are what is possible if all have an impressive year. However, it is likely that a couple will underperform compared to their historical records and therefore the expected profits will be lower than shown here but we are very optimistic that they will continue to be very positive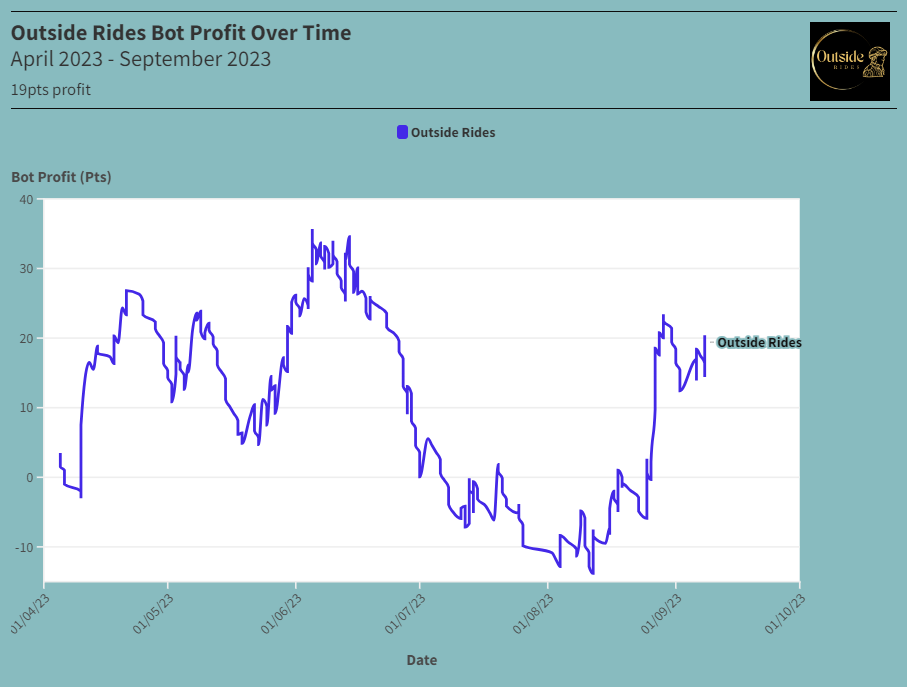 Unique reasons to join the Outside Rides Bot?
The backtesting results have shown remarkable results of profitability to BSP which makes it a genuine Betfair Exchange friendly option.
A system where the Outside Rides is very open in explaining how it works and the logic behind the value which is rare to find. The key is in his in-depth understanding of horse racing and the psychological elements relating to jockeys. This then allows him execute the strategies to have excellent value
Can say from experience (Wadster) that the Outside Rides tipster has fantastic communication skills. He addresses any issues publically when important, and has a level of accountability that is reassuring. From his summaries alone you can get a grasp of the depth of thought going into selection process.
Low maintenance service with a

maximum of 5 tips

a day presently and all at set times. For the Betfair Start Price group it couldn't be simpler and more relaxing to follow.
Higher odds range tipster which gives the chance of winning runs that the other bot tipsters won't be able to achieve. A good few days can guarantee a couple month profit on occassion.
Service Fundamentals
Bookmakers we recommend – Bet365, William Hill, Unibet, BetFred, Coral, Paddypower, Betvictor. Betfair Exchange (BSP)
Odds Recording – 2nd best price of boomakers recorded above (bookies group) & BSP (Betfair Exchange group)
When are bets sent – typically 10am for bookies group (allows for BOG) and 11 30am for Betfair Exchange group
Bets receveived by default – you will have access to bookies group bets by default on bot
Groups (additional bets outside default) – BSP (Betfair Exchange group)
*further group info below
Groups
Bookies group– this is the group best suited if looking to use bookmakers or to bet each-way on some selections.
Betfair Exchange group– this is for members looking to use the exchanges rather than bookies. These bets will be win only (not each-way or to place) due to lower liquidity on other markets.
Members of both groups will receive the same selections, but with differences in how they are staked and settled. For example, an each-way bet with the Bookie group will have both parts of the bet- to win and to place- included in profit and loss- whereas the Exchange group will only have half the bet considered (the win part). Both groups returns should converge over time!
The bookie group is the default option for the bot. If wanting to follow the betfair exchange (BSP) group then follow the instructions below.
Instructions for joining groups
1) To start type /help – this will bring up all the commands and you will see the group options at the bottom.
2) Next click the /listgroups option to see the group options available to you (BSP).
3) Then you need to select the /joingroup option and simply type in the name of the group you wish to be a part of (I.e. 'BSP'). If ever wanting to leave this group you do the reverse by selecting the /leavegroup option and typing out ('BSP').
Important Note – you will either be in the bookies group or the BSP group. You will never be in both groups and equally you will never be in no group. So you will always receive tips when active on the bot. When you leave the BSP group you will automatically return to bookies group by default